Wasp removal
Covering all aspects of wasp removal or wasp extermination throughout Hampshire, covering Portsmouth, Fareham, Chichester and Waterlooville, and all surrounding areas.
If you have a wasp nest or infestation that you are in urgent need to get rid of, and you are based in any of the areas listed above or any surrounding areas, then please call either 07501702101 or 02393092101 to get in touch with our team. We will discuss your wasp infestation with you over the phone, and then come up with a plan of action of how best to treat your wasp issue, before arriving at your property on a scheduled day and time.
Wasps may be a real pain if they are congregating around your house or place of work, and they can even harm you if provoked. Wasps are one of the most dreaded and aggressive pests, attacking and stinging unprovoked or when threatened. If you have young children or pets, this is a risk and a matter of concern, since wasp stings may be quite dangerous for some. Wasp stings may produce serious responses, and several people die each year as a result of them.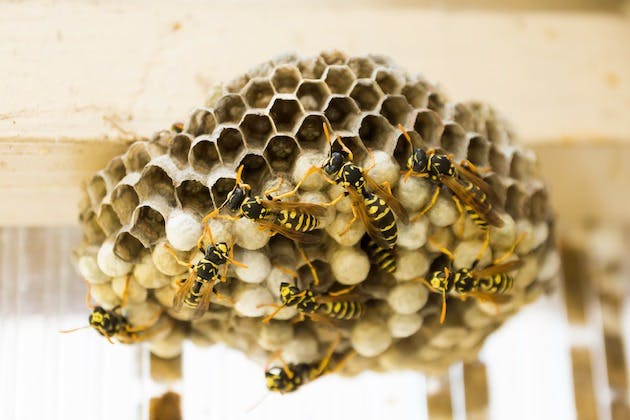 Fully comprehensive wasp removal service
It is no secret that being stung by a wasp or bee can be excruciatingly painful, and for those who are allergic to stings from these insects, it can even be life-threatening. Especially during the warmer summer months, wasp infestations are common in Portsmouth, Fareham, Waterlooville, and Chichester.
You may, however, lower your chance of being stung by wasps or bees by taking reasonable pest control measures when outside and ensuring that wasp or bee nests are appropriately handled if they enter your property or build a nest on the exterior of your home.

At Pegasus Pest Solutions, we offer a fully comprehensive wasp removal service whereby we take control of all wasp infestations at your home in Portsmouth, or any of the neighbouring towns and cities, and remove the wasps so that you can live at home peacefully without the fear of being stung.
Our method for wasp removal
At Pegasus Pest Solutions you can guarantee that we only use products that we know are proven to work when it comes to controlling a wasp infestation. For the inside of buildings, we use a product called Ficam D which is a dry powder product that we add to the inside of buildings, such as houses, garages, sheds, or even attics. It is important to note that this product cannot be used in any outdoor areas due to ecology concerns.
If you have experienced a wasp infestation on the outside of your property, and it is persisting, then we have an alternative method for this kind of wasp removal. We use 'perbio choc', which is an ecologically friendly, wet product that we spray into a nest to deal with wasp infestations very quickly. On some occasions, we use the foam on the outside, but the indoor dry powder is usually sufficient to deal with most wasp infestations.
We always take health and safety into account
At Pegasus Pest Solutions, we always survey an area to find out which way the pest is coming out from. It is also very rare that we will enter your property to deal with a wasp infestation, as we survey the entrance and exits thoroughly to find out where the wasps are entering your home from. We also rarely use a ladder which often can be deemed as unsafe to use on some properties. We use an 8-meter rod that's both safe and easy to use.
For wasp control, we can guarantee results when it comes to getting rid of your wasp infestation. That's why we do not take payment from you if wasps return after us treating your property - we're that confident that we can deliver results!
Wasp nest removal specialists

Our vastly experienced team are well equipped to dealing with any wasp nests that may have shown up at your home in Portsmouth, Fareham, Waterlooville and Chichester. In the warmer months, between June and October, wasps in the Fareham area are a real common problem that needs dealing with effectively by professionals. If you choose Pegasus Pest Solutions, you will be choosing a company that is well-experienced in professionally removing any wasp nests or infestations in this area, as well as any surrounding areas across Hampshire, such as Waterlooville, Chichester, or Portsmouth.
Why you should get rid of wasp nests
Even though it's just female wasps that are the only kind that can sting you, unlike bees, wasps can sting repeatedly if they feel threatened. A wasp sting usually has no long-term consequences for most people, but if you happen to be allergic to wasp stings, they can be fatal!
That's why the most effective approach to handle a wasp infestation is to decrease the risk of being stung by hiring a pest control specialist to professionally remove the wasp nest. Wasps can make their nests outside beneath protected eaves, in on the corners of roofs or, if they get access to the inside of your house, in sheltered locations such as wall cavities, roof cavities, garages, attics and lofts.

The most important reason to get rid of wasp infestations or wasp nests at the earliest point is that they will often build colonies in a short space of time. Although most wasps generally have short life cycles of up to 3 weeks, queen wasps can live up to a whole year.
If you see a wasp nest in your home, you should give us a call on 07501702101 or 02393092101 and we will book a visit to your property to see how to best deal with the problem. We advise you not to treat a wasp nest yourself, as doing so will risk pain or injury. If, however, you decide to do so, we suggest that you treat the wasp nest at dusk when the wasps tend to be less active and easier to disperse.
Get in touch with us today for wasp removal
If you need an exterminator for wasp or bee infestations, then give Pegasus Pest Solutions a call on either 07501702101 or 02393092101, and we would be more than happy to help you. Our exterminators are fully equipped to deal with any wasp nests that might be on your property in Portsmouth, Fareham, Chichester or Waterlooville, so give us a call on any of the numbers listed above if you require our assistance.